On August 18, 1910, Sister Nivedita wrote a letter to her friend S. K. Ratcliff in England, and titled it 'Nationalism My Mother'. In the letter she said, "Arabindo is only praiseworthy as he is the real protagonist of Indian Nationalism. Arabindo Ghose may be said to be the one Indian mind that has really grasped nationality in a creative sense." She also called him 'Bengal's Mazzani'. By then Sri Aurobindo was already in Pondicherry. Under Nivedita's influence Ratcliff became a supporter of Indian cause and had to quit his service as the Editor of The Statesman during the Swadeshi days of Bengal between 1906 and 1910. He was forced to leave for England but never lost his love for India and greatly admired the writings and role of Sri Aurobindo in the freedom struggle of India. Writing about the newspaper Bande Mataram, an English newspaper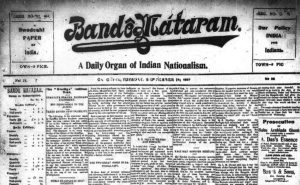 edited by Sri Aurobindo, he noted:
"It had a full-size sheet, was clearly printed on green paper, and was full of leading and special articles written in English with a brilliance and pungency not hitherto attained in the Indian Press. It was the most effective voice of what we then called nationalist extremism."
Sister Nivedita was a friend and comrade-in-arms with Sri Aurobindo during the days of Swadeshi and nationalist movement. She met him in Baroda sometime in late 1902 after her guru Swami Vivekananda had passed away on July 4, 1902. Sri Aurobindo was impressed with Nivedita's book Kali the Mother, published in 1901, and felt that it could be used as a tool for inspiring the revolutionaries in their struggle for Indian motherland.
Sri Aurobindo himself said that he always maintained relations on a political level with Nivedita. Never did they discuss spirituality for all the years that they kept in touch. Sri Aurobindo had named Nivedita 'Shikhamoyee, the flamed one' and included her as one of the office bearers in the Secret Revolutionary Committee that he had set up in Baroda to guide and carry out India's future struggle. After his departure to Pondicherry, she even managed Karmayogin for a few days, keeping the fact hidden that Sri Aurobindo was beyond limits of British India.
Nivedita wished to publish all of Sri Aurobindo's nationalist articles in a book originating from England. Therefore, on June 26, 1909, she wrote to Ratcliff: "If possible we will publish all of Arabindo's nationalist articles. The last article would be 'To the Sea' – it would include all of the trials of Alipore Bomb Case and would be a true book upholding the highest ideals of Hindu religion."
(*Giuseppe Mazzini [b. June 22, 1805–d. March 10, 1872] was an Italian politician, journalist, activist for the unification of Italy and spearhead of the Italian revolutionary movement. His efforts helped bring about the independent and unified Italy, bringing together several separate states, many dominated by foreign powers, which existed until the 19th century. He also helped define the modern European movement for popular democracy in a republican state.)